African American History Education based in Annapolis, Maryland
Prologue: Nannie Helen Burroughs (1879-1961), a remarkable black woman, is lost to history. Lacking knowledge of her contributions and achievements deprives our country of the benefits to be derived from applying her teachings to the problems facing us today. Therefore, this website is designed to bring to the people her views about "Opportunity, Responsibility and Challenge". She believed, and so do I, that these factors are essential to achieving the full fruits of our democracy.

The website reflects knowledge gained and lessons learned over the past twelve years studying Miss Burroughs' life and works. Now in 2020, as our nation is faced with the coronavirus pandemic, which in the recent words of a front-line healthcare worker "does not discriminate" and the recent events surrounding the untimely and unlawful death of Mr. George Floyd by a police officer which appears to have racial implications, our country is struggling to balance its past with the present and future. Therefore, as we fight this two-front battle, Burroughs' teachings about "Opportunity, Responsibility and Challenge" (Afro-American Newspaper article, dated October 12, 1957) emphasize the need for a cooperatively developed effort from across racial lines to defeat the invisible enemy and the openly acknowledged race discrimination and inequities.

Throughout her life, Nannie Helen Burroughs spoke openly and decisively about the need for common ground and cooperation across racial and political lines to sensibly identify issues and seek solutions, including the roles of our government (federal, state, and local) and the type government we have and desire. Below, in a 1943 national radio address, she spoke to the need for both blacks and whites to take responsibility to defeat race discrimination and inequities. Her path to victory was always through the masses electing leaders who could find common ground and look 25, 50, 100 years in the future and make plans to that end.

The contents of this website are the results of the exhaustive work of many women historians and others for whom I have the highest regard and respect. Although I refer in the contents of the website to only a few, I express my sincere appreciation to all for their efforts. The project work started in the Library of Congress with my research into the 110,000 pieces of information, organized primarily under the supervision of Dr. Evelyn Brooks Higginbotham. The project work started in the Library of Congress with my research into the 110,000 pieces of information, organized primarily under the supervision of Dr. Evelyn Brooks Higginbotham, Havard Professor and President of ASALH.During my research, I was delighted to find that Miss Burroughs' mentor, Dr. Walter H. Brooks, Pastor of the Nineteenth Street Baptist Church in Washington, D.C. from 1882 to 1945, was the grandfather of Dr. Higginbotham. In this church, Nannie Helen Burroughs started the Woman's Auxiliary in 1902 and Woman's Day in 1907. Even in this church, the broad reach of Nannie Helen Burroughs' views and work seems to be lost.

Nannie Helen Burroughs' fight against discrimination included the rights and roles of women in the Home, Church, School, Workplace and Politics. She believed, however, that in spite of circumstances, every right carried an equally heavy burden of an obligation as the path to equal and sustainable equality and justice. She waged this battle within the black community and across racial lines, finding cooperation from among the white women of the Women's Missionary Union of the Southern Baptist Convention.

One of her remarkable achievements was being the first woman, in 1934, to give the Tuskegee Institute Commencement Speech, where she challenged the graduates with her teachings: "…I want you to take the struggles, the hardships, and the handicaps of this civilization and turn them into stepping stone. That is what other races have done, black and white…I heard an old woman praying one time. She asked, Lord please don't take me up the rough side of the mountain. I spoke to her afterwards and told her please not to include me in that number, because that was not the side I wanted to go up on. I wanted to go up the rough side because there was some chance I might get to the top. But if I went up the smooth side, I might slide back down…"

Secondly, as mentioned above she remarkably was extended the opportunity to give a national radio address in 1943: "Americans in arms…We salute you ALL - black and white…this war gives to America her first supreme opportunity to prove…that Democracy ideals and principles cannot be defeated…it also gives to the American Negro his FIRST opportunity to let the world know the type and quality of men and women a democracy can produce in seventy-five short years…this nation and the Negro race are face-to-face with the greatest opportunity that have ever come to either. Neither must be weak ANYWHERE…". Unfortunately, in spite of Burroughs being a member of the Advisory Board to the National Broadcasting Company, this audio could not be found in the company's archives.

During my research, I have been unable to find any audio or video of Miss Burroughs. Beyond the scope of work in the congressional archives, the two readings which mostly heavily impacted my initial work were the 2008 Doctoral Dissertation by Dr. Ann Michele Mason of the University of Maryland, Nannie H. Burroughs Rhetorical Leadership During the Inter-war Period and Dr. Bettye Collier-Thomas' best-selling 2010 book, Jesus, Jobs and Justice. I still cherish the copy she personally autographed for me at the 94th ASALH Convention in Raleigh, NC.

More recently, a 2019 book by Dr. Kelisha B. Graves, A Documentary Portrait of an Early Civil Rights Pioneer, provides the most comprehensive study and analysis of Nannie Helen Burroughs' life and work I have encountered. The endorsements by Dr. Sharon Harley, University of Maryland, Dr. Linda D. Tomlinson, Fayetteville State University, and Dr. Tommy J. Curry, University of Edinburgh truly capitalize the essence of this remarkable piece of work. Dr. Curry's review, "This is a tremendous scholarly reintroduction of Nannie Helen Burroughs as a black thinker, a civil rights activist, and a race woman…", best describes my objective in how I would like to see us apply the teachings of Nannie Helen Burroughs. I note here that the documentary's title only refers to Burroughs as a Civil Rights Pioneer, whereas the book covers the entire range of Burroughs' life's work and views as shown in her 1952 book, Think On These Things.

Beyond writings and excerpts of speeches on the website, I encourage the reader to Google for speeches, writings and books written about her. I have tried my best to do justice in sharing the work of our women historians and others who wrote about her in my efforts to bring her teachings into our lives today. I believe strongly that her views and vision for our country represent the way forward to find the common ground required to achieve a more perfect union.


The Monmouth County

Business & Professional Business Women's Council, Inc.

OUR HISTORY

1950 - 2004
We are beholden to the past.

We are shaping the present.

We are responsible for the future.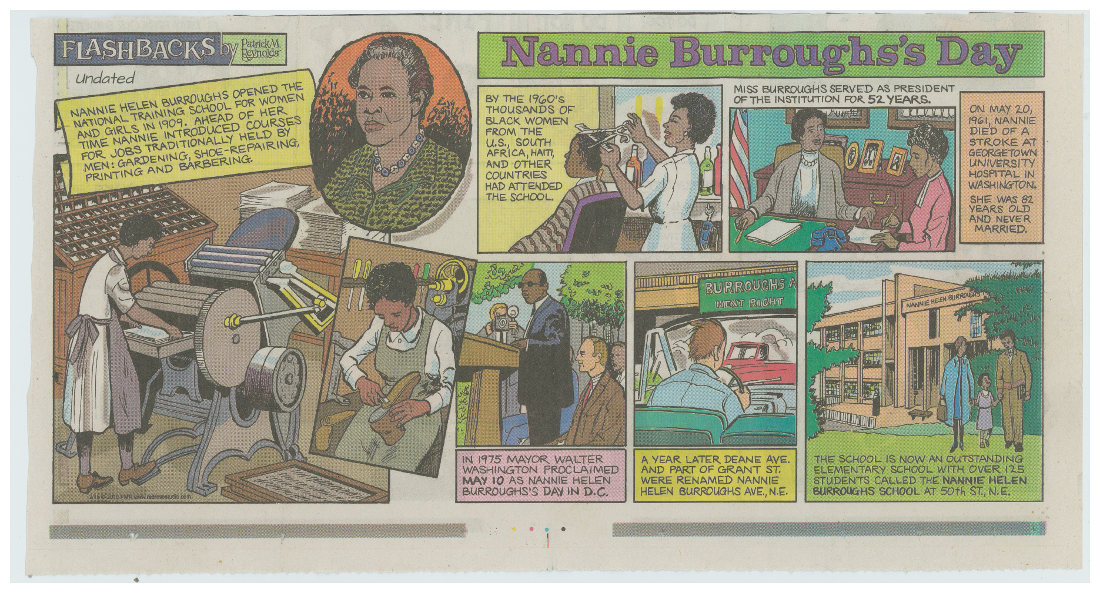 Click to Enlarge
The above describes the vocational school established for Negro Women and Girls in 1909, closing as an Elementary School in 2013. Many will argue that this was Miss Burroughs' greatest achievement and contribution to our race and country. Lost in the discussion of this great institution, however, is the dual mission of religious education. She founded a National Christian Educational Retreat on the campus of the school. It was held annually in the month of July, and offered training to leaders and workers in every department of the church, to include missionary work. Aurelia R. Downey, the third president of the school, addresses the details in her remarkable book, A Tale of Three Women, Nannie Helen Burroughs, Dr. Rebekah J. Calloway and Dr. Aurelia R. Downey. As an indication of Burroughs' world-wide reach, Downey writes that Burroughs purchased and maintained a Retreat for Foreign Missionaries at 1022 Maryland Avenue, N.E., Washington, D.C., which was not maintained by the National Baptist Convention after her death. This seems to confirm the continuation of Burroughs' world-wide religious impact, given her keynote speech at the First Baptist World Alliance Conference in Hyde Park, London in 1905 and the enrollment of Negro girls from foreign countries in her school in 1909.

In the field of education, Lucy Craft Laney was known as the matriarch. Along with Nannie Helen Burroughs, Charlotte Hawkins Brown and Mary McLeod Bethune, these were our "Women Builders" who were affectionately known as "The Fab 4 of Education". However, those who knew Burroughs recognized that her life's work had implications far beyond education, as suggested by Dr. Sondra Washington, in her book The Story of Nannie Helen Burroughs: "...known to kneel in prayer in her school office every day at noon, her relationship with God was so strong that it was difficult to draw clear lines between her thinking on religious, educational, political to read and social interests.". I suggest the 2018 movie, Green Book, as an interesting vehicle to start a discussion about Nannie Helen Burroughs and the past, present and future of our racially divided country. "Sow a thought and reap a deed. Sow a deed and reap a character. Sow a character and reap a destiny." These words - quoted in the 1950/52 volumes of her books, What Do You Think?/Think On These Things, are attributed to various authors, but clearly inspired by Biblical teachings – summed up Nannie Helen Burroughs' life and work, and are the spirit behind this project trying to stimulate an interest in her thoughts, words and deeds.

I once asked of my fraternity brother, Dr. Lawrence Hawkins: "Why did I select this person as the cause to which I would dedicate the rest of my life, given her views are presented in such a direct and uncompromising manner?" Dr. Earl L. Harrison a friend and thirty-one year Pastor of Washington DC's Shiloh Baptist Church describes her as follows in his book, The Dreamer and the Dreamer: "…She was courageous and dynamic to the point that she was irresistible to the open-minded and contemptible to the jealous and prejudice." He responded : "Brother Wyatt, you did not select her. She selected you"
---
The people do not apply my teachings. When I speak, they agree with me, laugh, give me standing ovations and applauds, but that's the end of it. Perhaps when I am dead, if someone will share my teachings with them, they might apply them. If so, they will improve themselves economically, intellectually, politically, and socially, and this will make them first-class citizens. I leave this responsibility to you.
---
The above are the words of Nannie Helen Burroughs as told to her student Mary Alice Dorsett, who attended the National Training School for Women and Girls from 1947-51. Long after graduation, Miss Burroughs was a mentor and friend to Mary Alice, as shown in the above correspondence. In 1990, Mary Alice Dorsett wrote a book entitled Wings. She said Miss Burroughs told her to write a book with that title, because "A race rises on its own wings, or is held down by its own weight." Per her wishes in the above letter, I did travel to Tampa and participate in her eighty-fifth birthday celebration, and we maintained contact until her demise. Suffering from the debilitating effects of a stroke, she penned the below communication to me in 2015. Mary Alice Dorsett transitioned in November 2017. I honored her request and traveled to Tampa to participate in her funeral. I am not an historian. I simply found the writings of our women historians to be a valuable lesson in how the past, if rationally faced, can be a guide to how we conduct our lives today. Therefore, since discovering Miss Burroughs in 2008, I have used my personal resources to advance her views and vision for our race and country.
What were the teachings that Nannie Helen Burroughs wanted the people to apply?
While some laughed when she spoke, others more seriously accepted her message. After a 1934 speech in Lakeland, Florida to a black and white audience at a convention of the National Association of Colored Women, a white woman rose to her feet and exclaimed: "I do not deal in superlatives, but Miss Burroughs has given a matchless address. She is not only up-to-date in her understanding and analyses of great questions, but she is 50 years ahead of her time." So, in the above message to Mary Alice almost two decades later and ten years before her demise, Burroughs seems to be addressing her teaching about these "great questions". What were the questions and her teachings? I believe the answer is found in an Afro-American Newspaper article, dated October 12, 1957, which reads: Louisville, Ky. - "Miss Nannie H. Burroughs, presiding at the Woman's Convention of the National Baptist Convention… recently opened a "Crusade to Improve American Life on All Fronts."…"People in America are frustrated, excited, furious, indifferent, ungodly and quite disturbed over what has been happening…and are doing much thinking and rethinking of their OPPORTUNITIES, RESPONSIBILITIES AND CHALLENGES…We are not organized for 'window dressing and annual parades and talk feasts.' We are organized to build schools, support institutions, discover boys and girls…and educate them...".

Nannie Helen Burroughs fought the battle on all fronts to educate our people about how to overcome the ills of racism and discrimination in search of the "inalienable rights" guaranteed under our constitution. She was militant and the fight was not pretty. She directly assailed the country's power structure, and demanded whites to reject the attitudes and policies of white supremacy to end racism. Speaking at a 1934 NAACP Rally where there 70 people with ropes around their necks, representing the daily lynchings of Negroes across the country, she thundered to the assembled crowd: "There are enough Negroes in Washington to make Pennsylvania Avenue tremble tonight." However, Burroughs was an "equal opportunity" dispenser of her views on racial issues. Circa 1928, she wrote: "Twelve Things the Negro Must Do for Himself" and "Twelve things White Folks Must Stop Doing". Equally important, she demanded a new and different type leadership…..politics. Please see her speech in the Louisiana Weekly, December 23, 1933: "Unload the Leeches and Parasitic 'Toms' and Take the Promise Land". I first heard of this speech when excerpts were read by a former Delta Sigma Theta President, as keynote speaker at a Delta sponsored event in my hometown of Norfolk, Virginia in 2010. The contents of this speech may be a significant reason that she is lost to history.

Nannie's Crusade was modeled with an image of the United States of America, surrounding the institutions of the HOME, CHURCH and SCHOOL. I have found accepting RESPONSIBILITIES to meet the CHALLENGES required to achieve OPPORTUNITES to be the consistent message in all of her speeches and writings. Her belief in the roles of the HOME, CHURCH and SCHOOL in preparing our children showed how she embraced Frederick Douglass' quote: "It is easier to build strong children than to prepare broken men." Douglass passed in 1895, the year before Burroughs graduated from Washington DC's M Street High School, now Dunbar. She became a life-long advocate and was the driving force behind establishing the Cedar Hill Frederick Douglass Museum in DC.

What were her views about the Home, Church and School in preparing our children for a productive future?
Home:

She believed there was a vast difference between a House (a building intended for habitation) and a Home. A Home consisted of elementary social virtues and values: love, godliness, understanding, cooperation, industry, courtesy, unselfishness, cleanliness, order and happiness---a House will eventually become a Home. She recognized and spoke out about the lack of fatherhood responsibilities of our black men: "…Stop making slaves and servants out of our women…They sing too much 'I can't give you anything but love, baby'. The women can't build homes and rear families off love alone…". I intentionally entitled this project "Rebuilding a Culture of Character" because Burroughs' life represented the epitome of Character. She recognized that it had to be instilled in our children beginning in the Home and built upon in the Church and School. In speeches, she spoke of: "…There is as much Character in Ebony as there is in Marble…"; "…We must have a glorified womanhood that can look any man in the face…and tell of the mobility of Character within the black woman."; and, "…Character not color…". Then we hear the 1943 poem, I Am Somebody, by Dr. William Holmes Borders, Morehouse Professor and Atlanta Pastor of Wheat Street Baptist Church, with music (Google UTube): "…I Am Somebody…I am a moulder of Character in Nannie Burroughs…". We now can understand, given her relationship as a mentor to Dr. King, his 1963 speech: "…I look to a day when people will not be judged by the color of their skin, but by the content of their Character…".
Church: Nannie Helen Burroughs established the Women's Auxiliary and Woman's Day in 1902 and 1907, respectively, in the Baptist Church. However, her insistence on speaking out bluntly about the role of women caused a strained relationship with the church, which remains today. I cite examples on the Documents Page of the website. At the 1900 National Baptist Convention, she gave a speech entitled: "How the Sisters are Hindered from Helping". In 1920 at the National Baptist Convention, she declared: "We might as well be frank and face the truth. While we have hundreds of superior men in the pulpits…the majority of our religious leaders have preached too much Heaven and too little practical Christian Living. In many, the spirit of greed…is ever crying, 'Give me, give me, give me,'. Does the absorbing task of supplying their personal needs bind leaders to the moral, social, and spiritual needs of our people? Men must welcome women into the affairs of government. Women must organize and educate. There will be protest against politics in the church, but it is better to have politics than ignorance." Burroughs' message about the church and country was communicated well beyond the black community. 1. At the age of twenty-six, in 1905, she was keynote speaker at the First Baptist World Alliance Conference in Hyde Park, London.In a speech entitled "Triumph of Truth" her message to the 18,000 assembled audience ws : "It is useless .....when they arrive. Her message to the 18,000 assembled audience was: "It is useless to telegraph to heaven for shiploads of blessings and not be on the wharf to unload the vessels when they arrive." 2. In a 1952 letter from President M. C. Allen of the Virginia Theological Seminary and College: "…I don't know why, but when I see you, 'I have a fit'…When I say your dynamic personality, creative mind and breath of soul to a weary traveler is an oasis in the desert, I speak the truth…". 3. In her 1959 letter to Reverend Billy Graham: "…This is the most unusual invitation you have received. You have never preached to the National Baptist Convention, U.S.A., Inc…I think God wants you to bring a message at such a time as this…".

School:The goal of Nannie Helen Burroughs' National Training School for Women and Girls was: 1. Develop every student in positive character and traits – The right attitude towards work and pride and skills in their chosen profession. 2. Prepare them to enter competition with any and all workers who are engaged in the same profession. 3. Prepare them to clean up the environment in which they live. The school was called "The School of the 3 B's, Bible, Bath and Broom" – symbolic of clean lives, clean bodies, and clean homes. Concerned about the plight of our children, Burroughs cautioned mothers about children and teen-age girls who are left at home to shift for themselves, because "…mothers are war workers… If they must be away all day, they should send their daughters to the best Christian boarding school, so they can get the kind of training that will prepare them for the great day of economic competition that is sure to come…" In characteristic harsh and blunt language, she said: "…while they were here and there, their children went to the dogs or the dogs came into their homes and got their daughters…". Again, we see her orientation on, and concern for, "The Children".
How did Nannie Helen Burroughs' views compare with those of her contemporaries?
In her book, A Forgotten Sisterhood, Dr. Audrey McCluskey acknowledges the many black women who "…dedicated themselves to bringing change to our society between the 1899s and mid-1900s by building institutions of learning…". Lucy Craft Laney, Mary McLeod Bethune, Charlotte Hawkins Brown and Nannie Helen Burroughs are referred to as "The Fab 4 of Education". Laney was called The Matriarch, while the others are commonly referred to also as "The 3 B's of Education". McCluskey compares Burroughs to the others as follows: "…Through her writings and speeches, Burroughs created a legacy of activism focusing on the topics of the day…She used her platform…to engage a broad range of race and gender issues, both religious and secular…To compare her with her sister founders, Burroughs was as political as Mary McLeod Bethune but less diplomatic…She was less concerned with "social graces" than was Charlotte Hawkins Brown…Burroughs was as committed to her religious beliefs and core values as the very serious Lucy Laney but was more confrontational in espousing them. Burroughs stood out among the four women for delivering social critiques that were pointed and direct and left little room for diplomatic ambiguity."

What would Nannie Helen Burroughs say about conditions in our country today?
I believe her speech at the 1956 Baptist Women's Convention would reflect her view of things today: "Today terrible conditions and serious race tensions and conflicts are tormenting the lives of people in both races in every sections of our country." She would have us review her message and those of her sister institution builders: Lucy Craft Laney - "God has nothing to make men and women out of but boys and girls." Mary McLeod Bethune - "…I want to see my people conduct themselves naturally in all relationships." Charlotte Hawkins Brown – "Don't let the failures of society keep you from reaching your full potential." Burroughs recognized that when our children departed the three institutions where their lives had been shaped, they would be entering a less than perfect environment, adversely impacted by the harsh realities of POLITICS. She might argue that in such a political environment with new technology the positive impacts of the HOME, CHURCH and SCHOOL have been diminished.

Politics: B

urroughs was a Republican as were most of our leaders and people at an earlier point in time. Some say that it is now the Democrat Party. Regardless of that discussion, I hasten to say that she was in a party, but not of a party. Today, the goal of cooperation Burroughs sought across racial lines is magnified in what appears to be almost complete allegiance to party ideology, with the overwhelming percentage of our people dedicated to one party. Here are some of her views and actions: 1. In 1923, Burroughs tried to get black and white women to join forces in fighting racial and sex discrimination and wrote an article in the West Virginia's Women's Voice Newspaper: "…There is a menace ahead. It is the politicians. The unscrupulous and unworthy are enrolled in both parties. They can be bought and sold…". 2. Burroughs wrote in a 1933 letter: "… I have served for twelve years as Chairman of the Republican Party …The party has made some colossal blunders in handling the Negro group…You must be willing to listen to some Negroes who tell you the truth…" 3. In a 1934 article: "…There is just one thing the voters should do…make up a dishonor role of all of the men and women who served them with hot air, ancient platitudes and political swill…and put them on ice for life…In the meantime, you vote for the man whom you consciously believe, without coercion, coin or compromise." 4. In her 1940 Letter to President Roosevelt: "…Dear Mr. President…It would seem that blind justice would rather feed the Negro on the crumbs that fall from the government's billion-dollar tables than to allow him to work and feed himself…He is also the best spender because he spends all of his money with American merchants…This is not true of other laborers who send some of their money 'Back home' to feed kin, to bank, and to buy land…" 5. Pittsburg Courier, 17 Sep 1960: "… Nannie Helen Burroughs says both party planks are fakes…If the Presidents of the United States cannot enforce the constitution, we don't want their planks. The constitution is the floor on which this nation is built, and the constitution is stronger than any plank that Kennedy and Nixon can write. We are sick and tired of this campaign 'hooey'."
I further believe she would pen a letter to our people, saying:

My Dear People,

Please don't continue to turn your backs on me, especially my church. My message to you is not given out of anger, but out of my love for the future of our children, race and country. Listen to my message, not my language. I am thankful to the likes of Drs. Earl Harrison, Sondra Washington and Barbara McCluskey who have tried diligently to explain that my intentions have been equally positive to those of my sisters. They have been blessed with the ability to express and present themselves differently. God does seem to make each of us, his children, in one of his many different images, but each for the good of mankind. So, I again present my message of "OPPORTUNITIES, RESPONSIBILITIES and CHALLENGES" to you. As a race, against all odds, we are so gifted and have given so much to this country in our long and difficult struggle. And I praise you for the fight for equality waged and being won against racism, discrimination and the power structure. I ask that the struggle be continued but not with frustration and hatred, while you intensify the challenge to seek cooperation across racial lines in building a just society. I do caution, however, that our task possibly has become more difficult, as we seem to have become a more mundane society.

Sincerely,

Nannie H. Burroughs

In her vernacular at the 1920 National Baptist Convention of "We might as well be frank and face the truth" our black community has turned its back on the teachings of Nannie Helen Burroughs. Our leaders in the church and politics even reject having an open and honest discussion about her views and vision for our race and country. However, consider the following commentaries.

Kelly Miller – 50 years at Howard University as student, professor and administrator: "She was a dynamo of feminine energy. Tracking her was no easy task. It was like trying to capture the wind in my hands. She moved at an extraordinary pace, touching down on literally every aspect of Negro life for over sixty years…"
Thurgood Marshall in 1954: "All of us are forever indebted to you for the long hard fight you have made for our people. You will forever be an inspiration to all of us."
Dr.King and Reverend Abernathy in a 1956 telegram to Burroughs in reference to the first anniversary of the Montgomery Bus Boycott: "…As the first leader of Negro women in America, it is imperative that you come to give hope to the thousands of women who are paying the price in our struggle…"
Dr King in a 1956 letter: "Dear Miss Burroughs...It was a real pleasure seeing you in Denver...Your remarks after my address were magnificent...You said in a few words more than most people could say in hours. It is always an inspiration to listen to you. Let me thank you once more for the interest which you have taken in our struggle...".
President Obama: "No one is born hating another person because of his skin color or his background or his religion. People must learn to hate, and if they can learn to hate, they can learn to love…".This thought process directly represents Nannie Helen Burroughs' views: In her 1950/52 books What Do You Think?/Think On These Things, she dedicated a chapter to The Meaning of Cooperation: "…it is made largely of unselfish attitudes, clear vision and common sense – combined to produce definite results in a cause in which two…groups or organizations…are mutually interested or affected…" At the 1956 Women's Convention, she said: We have quite enough of the occasional---the planned meetings together on special or high occasion, but we have far from enough united interests to bring us together on common ground to face our common problems and discuss what we can do ---together to enlighten all of the people of this nation and enlist them in all of the services that make for the common good…".
In his 1895 Atlanta Compromise Speech, Booker T. Washington stated that the races could work together as one hand while socially remaining separate as the fingers. In 1895, Nannie was a senior in high school. A colored man giving such a powerful speech seems to have greatly impacted her life.
Fort Monmouth, NJ., 21 July 1972 - Letter of Appreciation: To LTC James E. Wyatt: "….gratitude…for your initiative in organizing the first racial seminar in form of the Racial Talk-Back Sessions held monthly and the recent …Black Awareness Week activities…have added immeasurably in the attainment of our goal of racial harmony here at Fort Monmouth…".
As a race, we have different views about Tyler Perry's work. However, his comments upon receiving an award at the 2017 CMA Awards Ceremony are remarkably similar to the views of Nannie Helen Burroughs: "Now it has never been more important that we all come together, listen to each other, and realize that we are more alike than we are not alike."
Consider the following rather lengthy list of letters between Nannie Helen Burroughs and the white Women's Missionary Union of the Southern Baptist Convention. The discussion is intended to show cooperative actions across racial lines back in the 1930s, as Burroughs sought cooperation between the races. She recognized, and made known, that white women had to "step up their game" if progress were to be made. 1. November 23, 1931: Dear Miss Burroughs …I have been seeking some way in which we may enlist our women in the small towns and rural communities in some kind of cooperative work with your leadership of your churches…I am happy over the hope you express for help for the school. For I do believe that the Southern Baptist women are looking for a chance to cooperate with you…Sincerely, Una R. Lawrence. 2. October 22, 1934: Dear Miss Burroughs…Wish you were here with us…We are going to get $10,000 for you out of the jubilee, if it can be gotten…With love, Una R. Lawrence 3. January 23, 1935: Dear Miss Burroughs…I have had a feeling all along that we are doing something, the full extent and significance of which we cannot understand. It gives me a big thrill…Lovingly yours, Una R. Lawrence 4. February 14, 1935: Dear Miss Burroughs…Our women are ready to do something, but they are not going to take the initiative. You will have to do that. They know too little about what you need and are waiting for direction of their awakening interests…Cordially, Una R. Lawrence 5. March 29. 1935: Dear Miss Burroughs…I am not surprised that you finally had to write the sister down in South Carolina. Considering the fact that she will not understand at all what you are talking about, you did a pretty good job! I hope there will be no "come back" on your letter, and I really do not expect any, for you wrote a pretty good letter, considering "limitations" on your own self which strong feelings always place on us…We are dealing with some tremendously big issues even in these little, apparently insignificant, contacts with women in small towns in the south. Doesn't it give you a thrill, it certainly brings a thrill to my heart. Every day I am thankful I have a person like you with whom to work. Lovingly yours, Una R. Lawrence
As an interesting observation, the Southern Law Poverty Center has the identical objectives as Nannie Helen Burroughs' life and work, i.e., Fighting Hate, Teaching Tolerance and Seeking Justice. Different approaches. Common ground?
As the above addresses attempts at cooperation across racial lines, I believe a December 17, 2017 article, Bonfire of the Academies, offers great potential for, if not a solution, a wonderful opportunity for discussion leading to cooperation across political lines. "…What of Martin Luther King's dream?...the content of our character…" The Left and Right historically disagree on the extent of current inequities in the current system and the wisdom of decision making. Those on the Left tend to focus on the inequities in the system; those on the Right tend to argue for personal responsibility. The Left tends to see structural unfairness in the system, and is inclined to intervene. The Right tends to see a landscape of opportunity and fears the unintended consequences of new initiatives. Both positions have merit and, despite the frequent tenor of conversations between the factions, they are not mutually exclusive. Wisdom is likely to emerge from the tension between these worldviews, uniting good people around the value of a fair system that fosters self-reliance as it distributes opportunity as far as possible…" Finding compromise across political lines and cooperation across racial lines, as suggested by Nannie Helen Burroughs, provides grounds for a reasonable discussion to move our country forward.

Many speeches and articles written by Nannie Helen Burroughs are among the 110,000 pieces of information archived in the Library of Congress. Unfortunately, as stated in the prologue, there is no audio or video of Nannie Helen Burroughs. In spite of being a member of the Advisory Board of the National Broadcasting Company, the company was unable to find a copy of her in the 1943 National Radio Address to "Americans in arms…" in its archives. Below, I make an attempt to capture the essence of her life's work and message.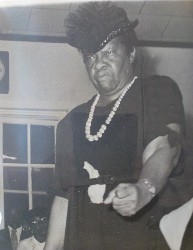 Mary Alice Dorsett, Burroughs' student 1947-51, in her 1990 book Wings: Miss Burroughs said: "You must write a book and entitle it wings, because a race rises on its own wings or is held down by its own weight." Burroughs speaks to this as she consistently addresses OPPORTUNITIES, RESPONSIBILITIES and CHALLENGES, and the role of our leaders in the church, education and politics in guiding the masses.

In her Book, Think On These Things in a chapter entitled, Put the Lump in the Leaven: "Democracy is like a lump in the leaven which a woman took and hid in three measures of a meal, until the whole was leavened…All social changes are the result of work. Democracy brings change. Democracy means continuous, progressive readjustments. Of course, that means danger. There are always those who fear danger. For change threatens established things. Slowly, but surely the yeast of Democracy is permeating the social order. It will continue until the whole lump is leavened. The nation will eventually rise above the injustice and race prejudice…Keep on believing, praying and working…"

I am encouraged by the fact that scholars such as Dr. Danielle Phillips-Cunningham are researching Nannie Helen Burroughs' approach to advancing democracy through labor activism. As Burroughs declared in her newspaper article about the exclusion of domestic workers from the 1935 Social Security Act: "Let us not forget that definite recognition of the value of all types of service lies at the heart of democracy. It constitutes its inner soul, its deepest life (Burroughs, "Domestic Workers Excluded," Atlanta Daily World, June 21, 1937). This article makes my connection with Nannie Helen Burroughs more personal than I could ever have imagined, because June 21, 1937 was my fourth birthday. Recognizing no progress in race relations, she made the following declaration in 1960, calling for action: "The day of the protest has come out of centuries of frustrations, but the weapons of warfare must not be frustration and hate. Rather, African Americans must use education, improvement of home and family and Christian Living to achieve their goals".

Nannie Helen Burroughs' views and vision for our race and country seem to have come from her grandmother, Maria Poindexter. "…They tell this interesting story about her attitude about slavery. She would say: 'Yes, honey, I was in slavery, but I wasn't no slave. I was just in it, that's all. They never made me hold my head down and there was a whole parcel of Negroes just like me'. That proud Virginian would say 'hold your spirit up inside child, hold your spirit up, and that helps you hold your head up. Don't let your spirit down.' Honey, they may have slaved my body, but they didn't slave my mind."

In conclusion, I don't suggest that we all agree with the views of Nannie Helen Burroughs. In spite of her strong views, even she seemed to suggest that we accomplish things through compromise and cooperation, which can only come through sharing our different views through discussion. However, it seems to me that we must come to some basic agreement on whether we view racial problems today from the standpoint of Victimization (The 1619 Project - The NY Times) or Opportunities, Responsibilities and Challenges (The 1776 Project - The Woodson Center)). Let's have our black leaders engage in this discussion and bring the findings to the masses.

Contact Us Today!
Contact us today in Annapolis, Maryland, to learn more about this hero in African-American history.
Please give your feedback,questions or other comments by email to
Email: nburroughsinfo.org@gmail.com
or call
Phone: (443) 949-9449
Colonel Wyatt is committed to an immediate response.